THE REFILL: Latest Dosage of Rx Patent Abuse
WHAT YOU NEED TO KNOW
Thanks to the bipartisan efforts of U.S. Senators John Cornyn (R-TX) and Richard Blumenthal (D-CT), who are among those in both parties working to end Big Pharma's exploitation of American patients, the big drug companies are on the defensive as support grows to address Big Pharma's rampant patent abuse.
On Monday, Senator John Kennedy (R-LA), writing in the American Healthcare Journal, praised the Affordable Prescriptions for Patients Act for its steps to rein in Big Pharma's anti-competitive behavior. Kennedy also noted Big Pharma's abusive behavior, writing that "drug companies abuse the patent system by putting new patents on old drugs that have been on the market for years."
Last week, Senator Gary Peters (D-MI) also slammed Big Pharma's patent abuse, telling local constituents that "these drug companies tweak the formulas to keep their drugs on patents and keep the prices higher, we've got to end that practice."
WHAT YOU SHOULD BE READING:
BIG PHARMA'S LATEST GAME OF PATENTS
Axios: "Unsupported" Drug Price Hikes Cost Americans Billions
Bob Herman
Price hikes on 7 prominent drugs — all of them above the rate of medical inflation, none supported by clinical evidence — cost Americans more than $5 billion over the last two years, according to a new report from the Institute for Clinical and Economic Review. Why it matters: Drugmakers weren't hiking prices because their medications were safer or more effective than when they were approved. They did it because they could. By the numbers: Here are the drugs (and manufacturers) highlighted in ICER's report, along with the increase in net spending attributable to each drug's price increase.
Bloomberg Law: IP Groups Developing Fresh Patent Eligibility Bill Proposal
Malathi Nayal and Keith Perine
Intellectual property law organizations and others are working on a proposal for a patent eligibility law rewrite aimed at jump-starting talks on legislation, according to three sources familiar with the effort. Sens. Thom Tillis (R-N.C.) and Chris Coons (D-Del.) have been working for months on legislation to respond to U.S. Supreme Court decisions in recent years that attorneys say have left patent eligibility law poorly defined. But the senators' effort is delayed over disagreement among stakeholders, including on how to change Section 112(f) of patent law, which covers terms in patent claims describing the means to perform a function. David Kappos, a former Patent and Trademark Office director, and Paul Michel, a retired chief judge of the U.S. Court of Appeals for the Federal Circuit, are leading the effort, the sources said.
The Hill: Is Congress Too Afraid To Fight Big Pharma?
Sanjeev Sriram, senior adviser to Social Security Works
Across the entire political spectrum, the American people want Congress to fight Big Pharma and put patients before profits. Recent polling from Social Security Works and Data for Progress shows 79 percent of voters support competitive drug licensing. If a pharmaceutical corporation won't negotiate fairly on the price of a certain drug, they lose their patent monopoly. The government can give a generic manufacturer the right to make that drug and sell it at a cheaper price. Competition with generics is exactly the kind of pressure Big Pharma needs. By issuing competitive licenses, our government can target what Big Pharma cares about most — its patents and profits — while ensuring that patients still have access to their prescriptions. Competitive drug licensing is popular among Democrats (84 percent), Republicans (73 percent), and independents (80 percent).
Law360: Failure To Launch: The Patent Thicket Delay Of US Biosimilars
Stacie Ropka, Ted & Chantelle Ankerman, Axinn Veltrop & Harkrider LLP.
AbbVie Inc. has asserted 18 patents against three Humira biosimilars[7] and indicated that it has more than more than 80 patents it could assert in litigation.[8] Pursuant to settlements with follow-on applicants, Humira biosimilars will launch in 2023, seven years after the first biosimilar approval and 21 years after the FDA first licensed Humira. Genentech Inc.'s Herceptin and Avastin were licensed in September 1998 and February 2004, respectively. Only Amgen Inc.'s at-risk launches in July 2019 interrupted their exclusivity. Genentech has asserted at least 40 patents purportedly covering Herceptin biosimilars with expiration dates extending to 2028. In fact, Genentech is now asserting patents based on applications that were filed more than twelve years after Herceptin was licensed. Likewise, Genentech has asserted about 20 unexpired patents purportedly covering Avastin biosimilars with expiration dates extending to 2032. Predictions downplaying patents' role in blocking follow-on biologics' entry thus were not accurate. Patent thickets are adding years of exclusivity for biologics in the U.S.
WHAT WE'RE SHARING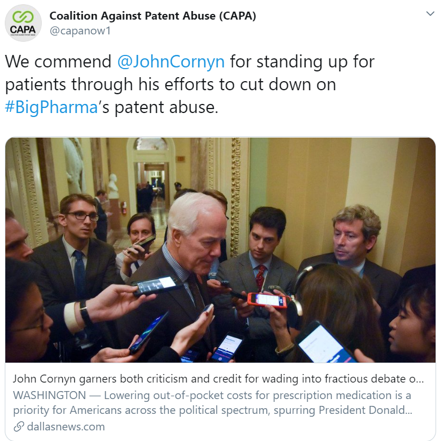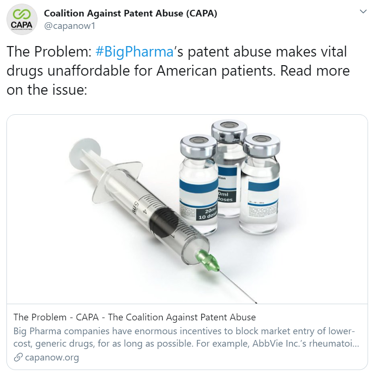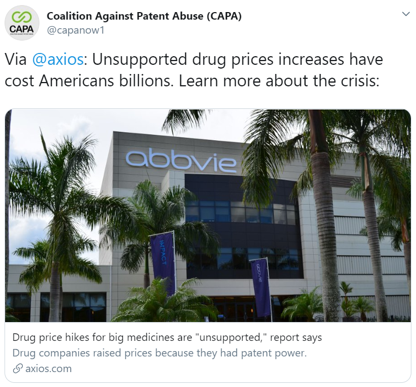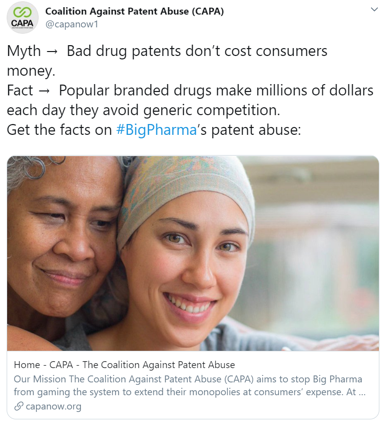 ABOUT COALITION AGAINST PATENT ABUSE (CAPA)
The Coalition Against Patent Abuse are healthcare providers, consumer groups, patient advocacy organizations, free market advocates, employers, and others fighting abuses of the patent system that can extend government-granted monopolies that illegitimately keep drug prices high for years, or even decades. Our members include the following groups and organizations: America's Health Insurance Plans, Association for Accessible Medicines, Blue Cross Blue Shield, Campaign for Sustainable Rx Pricing, Citizen Outreach, Consumer Action, Innovation Defense Foundation, Institute for Liberty, Kaiser Permanente, Knowledge Ecology International, Lincoln Network, R Street Institute, Society for Patient Centered Orthopedics, and U.S. Public Interest Research Group.