THE REFILL: Latest Dosage of Rx Patent Abuse
WHAT YOU NEED TO KNOW
In case you missed it, Michael Carrier, professor of law at Rutgers Law School and Genevieve Tung, associate director of the Rutgers Law Library, published an op-ed in Stat News on September 26 debunking Big Pharma's disingenuous opposition of reforming the patent system. The pair encourages lawmakers to stand up to Big Pharma and instead follow the example of Sens. Richard Blumenthal and John Cornyn who are leading a bipartisan effort to rein in Big Pharma and their abuse of the patent system.
WHAT YOU SHOULD BE READING:
The Hill: An Unprecedented Opportunity For Washington To Lower Drug Prices
Lauren Aronson, executive director of The Campaign for Sustainable Rx Pricing (CSRxP)
Leaders in the House are discussing a plan that reflects several of the key reforms that have won bipartisan support noted above, including measures to reform the Part D program by capping out-of-pocket costs, keeping price hikes below the rate of inflation and giving Big Pharma more skin in the game. And several additional market-based solutions have been taken up and advanced by Congress this year that will help create greater competition and boost transparency in the prescription drug marketplace, including, among others, the CREATES Act, STALLING Act and the FAIR Drug Pricing Act, bills to begin tackling Big Pharma's abuse of the patent system and legislation to address pay-for-delay arrangements.
Forbes: The Missed Opportunities In Nancy Pelosi's Prescription Drug Reform Bill
Avik Roy
There are several effective ways to combat monopoly power in prescription drugs, and thereby to enable more affordable medicines. The first is the most direct: to eliminate poorly designed rules that artificially create or extend monopolies in ways that have nothing to do with innovation. We all want to reward truly innovative drugs with just monopolies, in the form of patents. But when those truly innovative patents expire, competition should ensue. Manufacturers shouldn't have the incentive to take advantage of the system to engage in patent trolling. Biologic drugs should not be able to live on, competition-free, forever.
Patent Progress: Mythical Troll Attacks GNOME
Josh Landau, Patent Counsel at the Computer & Communications Industry Association (CCIA)
If the STRONGER Patents Act were to pass—which seems less likely after the strong criticism of the bill at a recent hearing—then trolls like RPIL would be incentivized to go after small companies and foundations like GNOME. RPIL could try to get GNOME to file a relatively weaker IPR due to its limited resources—and then turn around and sue larger entities, using GNOME's petition to block their patent from challenges by better funded litigants. The end result would be to increase bottom-feeder litigation like this and the cost of litigation for everyone in the patent system. Patent trolls with weak patents suing non-profits who make software for everyone's benefit—this is what bills like the STRONGER Patents Act and attempts to overturn Alice would protect and incentivize.
P&T Community: Bipartisan Drug-Patent Bills Ready for Senate Vote
Stephen Barlas
The legal tactics that pharmaceuti-cal manufacturers use to extend drug patents—thus delaying the introduction of cheaper generics—have been probably the biggest impediment to lower drug prices and to substantial Congressional action on drug pricing. Until now, that is. The Senate Judiciary Committee passed four bills at the end of June that would stifl e brand-name manu-facturers' use of patents, perfectly legal in some cases but a major hindrance to the introduction of cheaper generic copies.
CNBC: Humana CEO: Competition And Innovation Lower Drug Prices Better Than Just Putting A Cap On Them
Berkeley Lovelace Jr.
Legislation that would put a cap on prices pharmaceutical companies can charge for their prescription drugs can be effective in reducing health costs, Humana CEO Bruce Broussard said Friday.
FiercePharma: Amid A Political Firestorm Over Pharma's Pricing, Net Prices Actually Fell Last Quarter: Report
Eric Sagonowsky
Politicians and headlines regularly describe U.S. drug prices as "skyrocketing." But new data from analysts at SSR Health show prices haven't been growing as fast as they were—and the amount payers actually shell out is falling. In the second quarter, list prices in the U.S. grew 3.1%, compared with a 4.6% increase during the same period last year.
Axios: America Is Pharma's Piggybank
Caitlin Owens
Americans would save a boatload if we paid the same prices as other wealthy countries pay for prescription drugs, a new analysis from the House Ways & Means Committee confirms. Why it matters: This is why the industry is so staunchly opposed to both President Trump's and House Speaker Nancy Pelosi's plans to piggyback off of other countries' lower prices.
Axios: Generic prescription drugs are sometimes inaccessible to seniors
Caitlin Owens
Plans providing Medicare's prescription drug benefit are often slow to cover the first generic competition to a branded medication, according to a new white paper by the Association for Accessible Medicines, which represents generics. Why it matters: Generics are our system's way of keeping drug prices in check. But this doesn't happen unless patients have access to them.
WHAT WE'RE SHARING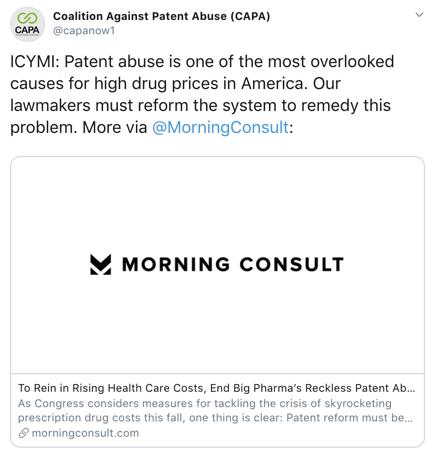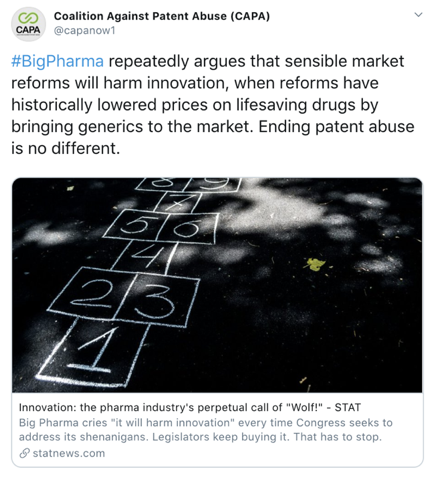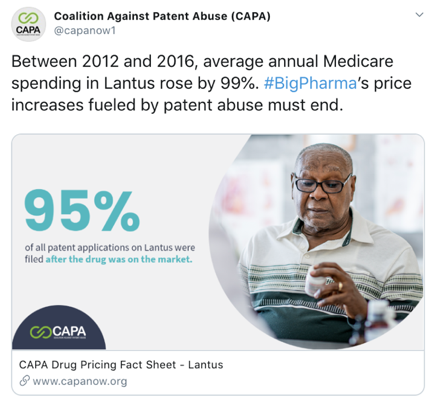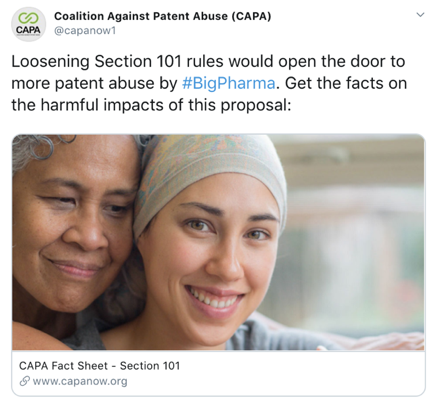 ABOUT COALITION AGAINST PATENT ABUSE (CAPA)
The Coalition Against Patent Abuse are healthcare providers, consumer groups, patient advocacy organizations, free market advocates, employers, and others fighting abuses of the patent system that can extend government-granted monopolies that illegitimately keep drug prices high for years, or even decades. Our members include the following groups and organizations: America's Health Insurance Plans, Association for Accessible Medicines, Blue Cross Blue Shield, Campaign for Sustainable Rx Pricing, Citizen Outreach, Consumer Action, Innovation Defense Foundation, Institute for Liberty, Kaiser Permanente, Knowledge Ecology International, Lincoln Network, R Street Institute, Society for Patient Centered Orthopedics, and U.S. Public Interest Research Group.