THE REFILL: Latest Dosage of Rx Patent Abuse
WHAT YOU NEED TO KNOW:
CAPA Joins Leading Organizations in Support of Patent Reform, Calls on Congress to Pass Legislation to Lower Drug Costs
The Coalition Against Patent Abuse (CAPA) along with fourteen organizations from across the political spectrum sent a letter to Senator Patrick Leahy (D-VT), Senator Dick Durbin (D-IL), Senator Chuck Grassley (R-IA) and Senator Thom Tillis (R-NC) outlining their support for the bipartisan "Restoring the America Invents Act" (RAIA).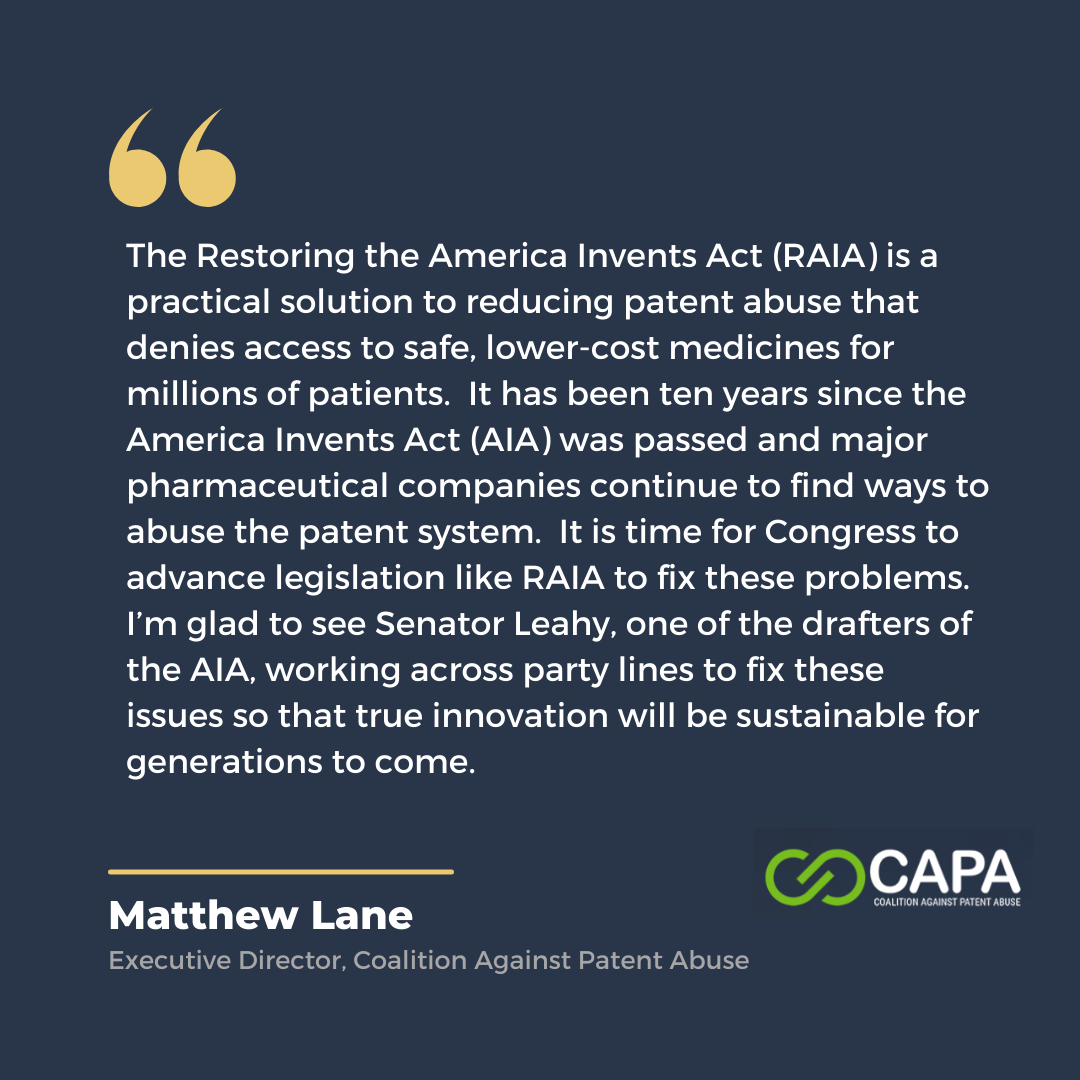 RAIA would:
Strengthen tools used by the U.S. Patent and Trademark Office, such as the inter partes review (IPR) process, to weed out low-quality patents that prevent competition from low-cost alternatives in the marketplace.
Restore the intentions of the "America Invents Act" to create an accessible faster and lower cost path to challenge patents that are preventing competition on vital medications.
Increase transparency of the Patent Trial and Appeal Board's (PTAB) patent review process.
Key takeaways from the sign-on letter include:
"Generic and biosimilar medications are essential to increase the competition… Competition saved consumers $338 billion in 2020 alone. Generics represent 90% of prescriptions filled, yet account for only 18.1% of drug spending. Unfortunately, anticompetitive abuses of the patent system are preventing some of this competition – especially in the biosimilars industry."
"Challenging patents in court is extremely expensive and time consuming. Litigation costs for challenging drug patents range from $900,000 to $5,000,000, depending on the amount of money at risk, and take years to conclude. IPRs are significantly less expensive, costing an average of $400,000 through appeal, and are required by statute to take only 18 months to reach a final decision."
"… drug companies are increasingly turning to follow-on patents, applied for after the drug is on the market, to block competition. For example, a House Oversight investigation found that AbbVie was pursuing these later filed patents as part of a strategy to thwart generic and biosimilar entry after predicting biosimilar entry for Humira starting in 2017. Competition still hasn't occurred, although biosimilars are expected in 2023."
To read the full letter, click here.
WHAT YOU SHOULD BE READING:
Fierce Healthcare: The Top 10 Drugs Losing US Exclusivity In 2022
Eric Sagonowsky, Kevin Dunleavy and Fraiser Kansteiner
With AbbVie's megablockbuster Humira set to face an onslaught of biosimilars next year, industry watchers have long circled 2023 as the year of the major pharma patent cliff. But this year's slate of top losses of exclusivity covers sizable brands worth more than $17 billion in annual sales. When Bristol Myers Squibb inked its $74 billion deal to buy Celgene back in early 2019, the timing of generics to blockbuster multiple myeloma drug Revlimid loomed as one major uncertainty for the deal.
Pink Sheet: Judge Jackson's Patent, FDA Rulings Show She Is 'Super Smart' And Would Be Beneficial For Pharma
Brenda Sandburg
While pharmaceutical-related cases that go before the US Supreme Court do not fall along the ideological divide, there is one issue on which Ketanji Brown Jackson's appointment to the court may be a factor: whether administrative agencies should be given deference when laws are ambiguous. As US District Judge on the US District Court for the District of Columbia, Jackson issued two decisions in cases that challenged the US Food and Drug Administration's interpretation of the statute governing eligibility for market exclusivity. In one case she ruled against the agency while suggesting a work-around, and in the other she ruled for it.
WHAT WE'RE SHARING