THE REFILL: Latest Dosage of Rx Patent Abuse
WHAT YOU NEED TO KNOW:
Did You Know: The Inter Partes Review (IPR) Process is a Faster, Cost-Effective Tool to Correcting Low-Quality Patents?


For over a decade, IPR has been among the most utilized tools in lowering drug prices and to date has saved over $2 billion in deadweight loss by reducing the cost of determining patent validity.

Sadly, some major pharmaceutical companies continue to game the U.S. patent system, limiting generic competition while keeping drug prices high for millions of patients. In fact, over a ten-year period between 2005 and 2015, 75 percent of patents granted were on old drugs.

It is time to strengthen and reinforce the best tool currently available to hold Big Pharma accountable.

Current legislation such as the Restoring the America Invents Act (RAIA) could reinforce and strengthen the IPR process to increase competition and access to affordable medications.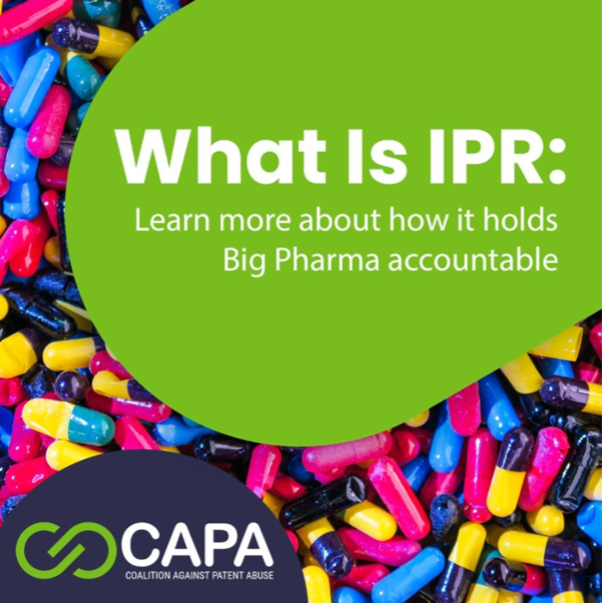 WHAT YOU SHOULD BE READING:
STAT News: Patent Thickets Are Thwarting U.S. Availability Of Lower-Cost Biosimilar Medicines, Study Finds
Ed Silverman                                          
Amid debate over competition in the pharmaceutical industry, a new analysis found just 6% of patents covered key ingredients — or innovative new molecules — in pricey biologic medicines, underscoring concerns that drug makers abuse the patent system when they go to court to thwart rivals. The researchers examined 21 patent infringement lawsuits filed by pharmaceutical companies against other drug makers and identified 179 patents that were allegedly infringed.
Fierce Pharma: Abbvie's Blockbuster Eye Drug Restasis Under Threat As FDA Approves Viatris' Copycat
Eric Sagonowsky
When AbbVie came up with its 2022 financial projections and shared them with investors early Wednesday, the company said it expects to retain U.S. exclusivity on blockbuster eye drug Restasis through the first half of the year. After the FDA approved the first generic to the drug that afternoon, those hopes may be dashed.
WHAT WE'RE SHARING