THE REFILL: Latest Dosage of Rx Patent Abuse
WHAT YOU NEED TO KNOW:
New Year, New Ways to Strengthen the U.S. Patent System

For too long, some of the largest drug manufacturers have utilized low-quality patents to block market entry of affordable generic alternatives in order to extend exclusivity of their brand name drugs.
To combat these anticompetitive tactics, reforms such as the America Invents Act (AIA) were put into place to restore the natural balance of powers between price-lowering competition and innovation.
One of the most utilized and successful tools used to achieve this goal is the inter partes review process (IPR).
To date, IPR has saved patients nearly $2 billion.
However, Big Pharma has continued to find weaknesses in the patent system to extend monopolies, sometimes indefinitely – and the evidence speaks for itself: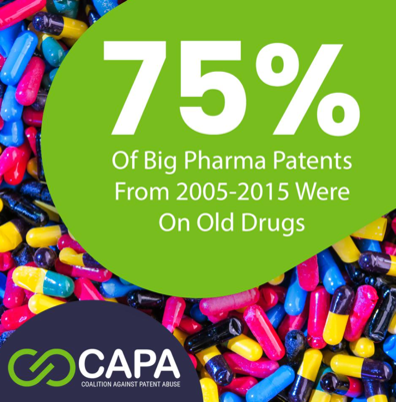 Thankfully, lawmakers are working on a bipartisan solution:
Senator Patrick Leahy (D-VT) and Senator John Cornyn (R-TX) introduced the Restoring the America Invents Act (RAIA) with the goal of reinforcing and strengthening tools within the U.S. Patent and Trademark Office, such as IPR, while giving patent examiners more tools to combat abuse and cut down on low-quality patents.
Learn more about the need for patent reform here.
WHAT YOU SHOULD BE READING:
The Wall Street Journal: Drug Prices Are High And Low
Peter Coffey                                                                                                            
… Before widespread use of generic drugs, pharmaceutical companies could count on a long run of moderate prices to earn back their investments in drug research and development. But with the acceptance of generics, prescription drugs must earn virtually all their returns on new drugs before they go off patent and prices plummet amid generic competition.
Inside Health Policy: AbbVie Asks Intl. Trade Commission To Block Humira Biosimilar Imports
John Wilkerson                                                                                                            
AbbVie on Friday (Dec. 17) asked the U.S. International Trade Commission to investigate the drug maker's allegations that Alvotech stole trade secrets for manufacturing Humira, which was the biggest selling biopharmaceutical in the world before Pfizer's coronavirus vaccine. AbbVie already sued Alvotech over the alleged trade secret theft, but a U.S. court dismissed that suit due to lack of jurisdiction.
WHAT WE'RE SHARING