THE REFILL: Latest Dosage of Rx Patent Abuse
WHAT YOU NEED TO KNOW:
CAPA Releases Statement on Nomination of Kathi Vidal as Director of the U.S. Patent and Trademark Office (USPTO)

"The USPTO will play a significant role in expanding access to affordable life-saving medications for millions of American patients, and CAPA looks forward to working with Kathi Vidal to ensure tackling patent abuse to lower drug prices is a top priority," stated CAPA Executive Director Matthew Lane.Earlier this year, Lane penned an op-ed in STAT News highlighting the crucial role that the next USPTO Director will have on reducing drug costs for millions of American patients, many of which are already struggling financially due to COVID-19.  As mandated in President Biden's recent Executive Order, there is a clear directive for the next USPTO director to address patent abuses that have delayed competition from generic drugs and biosimilars, denying American patients access to lower-cost alternatives. 

"Today, some of the nation's largest pharmaceutical companies have enormous incentives to block the entry of lower-cost generic drugs, keeping competition out and drug prices high.  While patents are essential for encouraging innovation, anticompetitive tactics by Big Pharma results in over-extended patent monopolies that saddle massive costs on the backs of hard-working Americans.  If confirmed by the Senate, CAPA looks forward to working with Kathi Vidal to strengthen the U.S. patent system and balance the interests of both patients and the industry," Lane concluded.
Myth v Fact: The Restoring the America Invents Act  The "Restoring the America Invents Act" introduced by Senator Patrick Leahy (D-VT) and Senator John Cornyn (R-TX) will rebalance innovation with competition while strengthening tools to weed out the low-quality patents that extend Big Pharma drug monopolies indefinitely. There is a myth that this bill will harm small inventors. That is simply not true. In fact, only 9 PTAB trials occurred against individual inventors out of 1,157 trials so far this year.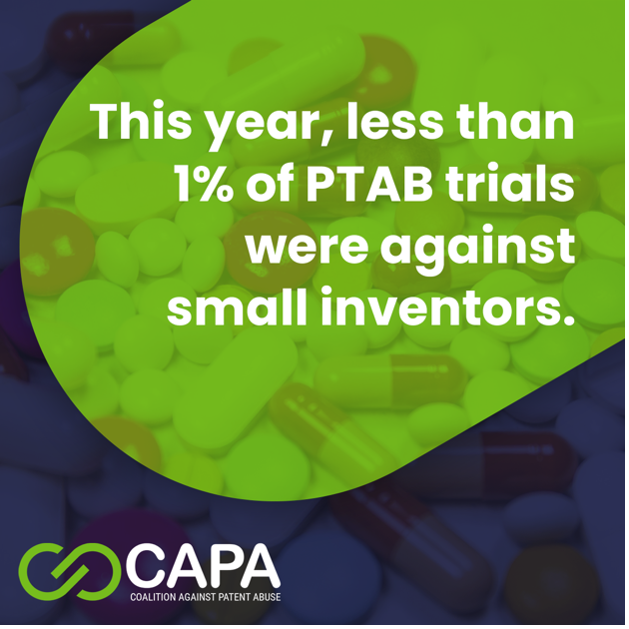 Learn more about the bill here.
ICYMI: The New York Times Highlights Opportunity for Congress to Lower Drug Prices, Tackle Anti-Competitive 

Recently, The New York Times published an article around the need for Congress to lower drug prices and expand access to life-saving medicines by tackling anti-competitive pricing tactics used by some major pharmaceutical companies.  The 2020 U.S. revenues of just three drugs – including the cancer drug Revlimid – represent 8.2% of total drug spending in that year. 

In fact, the average annual out-of-pocket cost for Revlimid was $17,142, according to a report by GoodRx.  Revlimid should be facing competition, however, final patents don't expire until 2026 and others are pending.  As Congress works to lower drug prices, they must also work to improve patent quality to balance innovation with competition.  This will ultimately help increase access and lower prices for millions of patients. 

Key Excerpts: "Many Democrats in Congress ran on a promise to lower prescription drug prices, and their big social policy bill may offer their best chance to do it. As they struggle toward an overall agreement this week, lawmakers are sparring over policies that would lower the prices drug companies could charge for drugs like Revlimid…." 

"Bristol Myers Squibb, the company that has sold the drug since 2019, charges $16,744.24 for each 28-day course, a price that has more than tripled since 2005, when it was first approved. Revlimid costs Medicare and its patients more than $4.7 billion a year — the second-highest cost of any drug in the program." 

"The drug companies argue that their high profits enable them to invest in research into new treatments and cures that can be financially risky to develop. Most scholars of the industry agree that a less profitable pharmaceutical sector would be one with fewer new drugs in the future, though they disagree about how few."

"… limiting patient expenses without lowering the prices would probably cost, rather than save, the government money. That makes the reform unlikely to succeed on its own." 
WHAT YOU SHOULD BE READING:
BioPharma Dive: A three-decade monopoly: How Amgen built a patent thicket around its top-selling drug
Jonathan Gardner
Three decades ago, a scientist at the University of Texas named Bruce Beutler asked the U.S. government to grant him a patent for a new invention. Beutler, who would later win the Nobel Prize for his research, had come up with a way to shut down certain types of inflammation in cells. His discovery became the foundation of the arthritis drug Enbrel, among the highest-selling pharmaceutical products in history and the backbone of one of the industry's largest companies, Amgen.
Becker's Hospital Review: Merck's Keytruda close to becoming top-selling drug in the world
Maia Anderson
Merck's cancer drug Keytruda is catching up to AbbVie's Humira as the highest selling drug in the world. Merck reported Oct. 28 that Keytruda brought in a record $4.5 billion in revenue in the third quarter, a 22 percent increase from 2020. Keytruda, which has been approved to treat 30 types of cancer, is currently the second best-selling drug in the world, bringing in $14.4 billion in sales in 2020. AbbVie's Humira, a rheumatoid arthritis treatment, is the top-selling drug in the world, bringing in $19.8 billion in 2020.
The Wall Street Journal: Democrats Reach Deal on Lowering Prescription Drug Prices
Andrew Duehren, Lindsay Wise & Richard Rubin
Democrats reached an agreement on provisions designed to lower the price of some prescription drugs, appearing to resolve one of the final issues in the party's negotiations over their $1.85 trillion healthcare, education and climate-change bill.
WHAT WE'RE SHARING