THE REFILL: Latest Dosage of Rx Patent Abuse
WHAT YOU NEED TO KNOW:
CAPA Highlights 10th Anniversary of the America Invents Act and the Creation of the Inter Partes Review (IPR) Process

Since its creation, IPR has saved over $2 billion in deadweight loss by reducing the cost of determining patent validity and has also been used to invalidate patents that were weaponized against small businesses and governments.
Thankfully, Senator Patrick Leahy and others in Congress are working to pass reforms to strengthen IPR as an efficient alternative to correct errors in issued patents and bring more transparency to the process.
President Biden should also appoint a director of the U.S. Patent and Trademark Office who is committed to reforming the patent system to prevent abuse and lower drug prices
Want to Learn More About IPR? Visit CAPA's Website Here.
Senator Leahy and Colleagues Call on USPTO to Reverse Policy Keeping Drug Prices Out Of Americans' Reach

Senator Patrick Leahy (D-VT), Chairman of the Senate Judiciary Subcommittee on Intellectual Property, and other members of Congress led a sign-on letter to the U.S. Patent and Trademark Office on the need to thwart anticompetitive patent practices used by some major pharmaceutical companies to extend monopolies well beyond their intended purpose.
"While patents are essential for encouraging innovation, anticompetitive tactics by some Big Pharma companies have saddled massive costs on the backs of hard-working Americans for far too long.  CAPA encourages the Administration to work with leaders in Congress and necessary parties within the industry on this important issue to once and for all reform the patent system to stop regulatory gaming and improve competition," stated Matthew Lane, executive director of CAPA.
HHS Releases Plan to Lower Prescription Drug Costs

Last week, U.S. Department of Health & Human Services Secretary Xavier Becerra released a proposal on ways to address high drug prices. This is a piece of a broader initiative launched by President Joe Biden in July through an Executive Order titled, "Promoting Competition in the American Economy"
CAPA Executive Director Matthew Lane tweeted the following in response: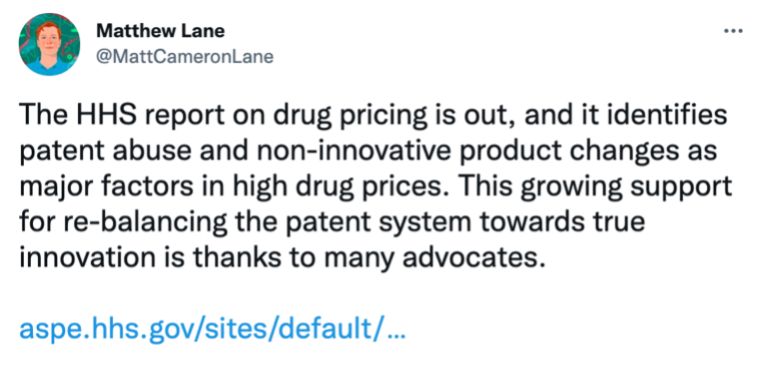 ICYMI: Our Member, The Campaign for Sustainable Rx Pricing (CSRxP), Released a New Survey on Need to Tackle Out-of-Control Drug Prices

According to the poll, 73% of Americans support lowering drug prices by increasing competition. How can we do this? By strengthening the IPR process to increase access to low-cost alternatives.
WHAT YOU SHOULD BE READING:
STAT News: FDA Commissioner, Two Senators Raise Concerns About Patent Abuse By Pharmaceutical Companies
Ed Silverman
In a bid to address the high cost of medicines, Food and Drug Administration Commissioner Janet Woodcock wrote the U.S.Patent and Trademark Office to express concern about moves that companies use to extend their monopolies as well as suggestions for curtailing some of these practices.
Inside Health Policy: FDA Wants To Work With USPTO To Stop Gaming Of Drug Patents
Gabrielle Wanneh
The FDA wants to work with the U.S.Patent and Trademark Office (USPTO) to combat what the government views as anticompetitive patent practices that drug companies use to block generic and biosimilar competition, acting Commissioner Janet Woodcock wrote in a Sept. 10 letter to the patent The agency's concerns include so-called patent thickets, patent evergreening and product hopping.
The Wall Street Journal: White House Unveils Plan To Cut Prescription-Drug Prices
Stephanie Armour
A Biden administration plan to lower prescription-drug prices offers the first detailed road map of administrative actions the White House would support in addition to legislation aimed at driving down costs.
WHAT WE'RE SHARING