THE REFILL: Latest Dosage of Rx Patent Abuse
WHAT YOU NEED TO KNOW
What The Next U.S. Patent and Trademark Office (USPTO) Director Could Mean For Drug Prices: As anticipation builds around who the next USPTO director will be, the Coalition Against Patent Abuse (CAPA) is highlighting the importance of making the right choice to tackle anti-competitive behavior that will help lower drug prices. CAPA Executive Director Matthew Lane recently opined:
"Some of the nation's largest pharmaceutical companies have unbridled control over drug pricing. They also have enormous incentives to block market entry of lower-cost generic drugs for as long as possible, because generic competition reduces the prices of drugs by 80% on average….As the Biden Administration and Congress continues to address the needs of the country, drug pricing should remain top-of-mind when setting any new policy. Particular care should be given to choosing the next USPTO director as they will have immense power over rules that affect drug prices."
Stay updated on CAPA's fight against patent abuse here
The proceedings conducted by the U.S. Patent and Trade Office (USPTO) Patent Trial and Appeal Board (PTAB) known as the inter partes review (IPR) process are instrumental in cancelling erroneously issued patents that monopolize medical therapies, making them unaffordable or inaccessible to many Americans. Created by the 2011 America Invents Act, IPR is one of the best, low-cost alternatives to traditional patent litigation that utilizes experts within the USPTO to take a second look at patents. Today, it is vital that we work to strengthen IPR to prevent erroneously issued patents that can help lower healthcare costs for millions of patients and the entire U.S. healthcare system. Look at the facts: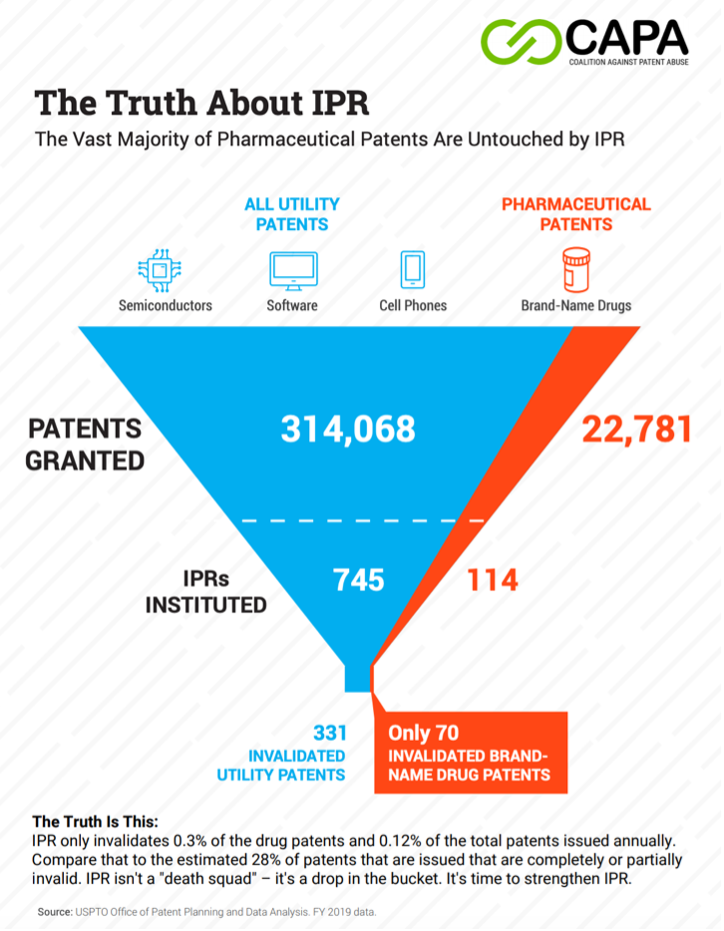 WHAT YOU SHOULD BE READING:
Fierce Healthcare: KFF: Small Number Of Medicare Part D, Part B Drugs Make Up Most Spending
Robert King
A relatively small share of drugs made up the majority of Medicare drug spending, according to a new analysis that gives an idea of how drug price negotiations could impact overall spending. The analysis, released Monday from the Kaiser Family Foundation, examined the top drugs for both Medicare Part D and Part B. The costliest drugs treat cancer, diabetes and rheumatoid arthritis, among other ailments.
Morning Consult: Opinion: Americans Need Relief From Big Pharma's Out-of-Control Prescription Prices
Lauren Aronson
Earlier this month, the principal trade group representing Big Pharma launched a new branding campaign touting drug companies' role during the pandemic. While we can all be thankful for the vaccines and treatments that save lives and support a return to daily life, policymakers should not allow this smokescreen to divert attention from the industry's pricing practices, which have continued apace during the pandemic and demand attention.
Kaiser Health News: The FDA Seeks a New Way to Review Old Drugs Without Causing Prices to Soar
Harris Meyer
Chuck Peterson of Omaha, Nebraska, recently experienced a swollen, painful knuckle caused by arthritis. He got a prescription for colchicine. Doctors have used the drug for treating gout and other rheumatic conditions for well over two centuries. When Peterson went to the pharmacy, he was shocked to discover that a two-month supply of 120 pills, distributed by Par Pharmaceutical, would cost him $225 out-of-pocket on his Medicare Part D drug plan.
Inside Health Policy: PhRMA Open To Ending Patent Games, Lowering Doctor Pay For Drugs
John Wilkerson
Brand drug makers are now open to ending some patent-gaming industry practices, including "product hopping" and possibly "patent thicketing," and lowering Medicare reimbursement to doctors for administering drugs, according to a legislative agenda released by the Pharmaceutical Research and Manufacturers of America Tuesday (April 13). Those measures are minor compared to what Democrats have in store for industry, but it's unusual for drug makers to give any ground on policies aimed at controlling prices.
WHAT WE'RE SHARING