ICYMI: HHS Secretary Azar Agrees, Congress Must Address Patent Thickets
IN CASE YOU MISSED IT: Yesterday, during testimony before the Senate Finance Committee and amid questioning from U.S. Senator John Cornyn (R-TX), United States Secretary of Health and Human Services Alex Azar urged Congress to act and finally address Big Pharma's use of patent thickets to expand their monopolies and maintain their drug high prices. As Secretary Azar noted, Big Pharma routinely uses patent thickets to prevent American consumers from accessing more affordable medications.
During the hearing, Senator Cornyn also noted there is bipartisan legislation currently awaiting a vote in the Senate that would rein in Big Pharma's use of patent thickets. The Affordable Prescription's for Patients Act, introduced by Senators Cornyn and Blumenthal (D-CT) would be a significant step toward addressing the big drug companies' patent abuse.
Click here to watch: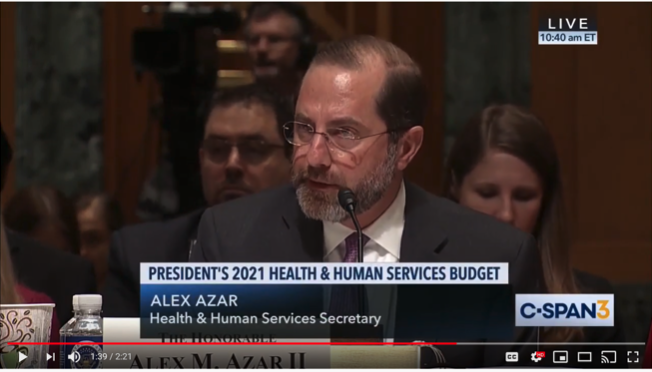 Key quotes:
"Just one drug alone the savings from biosimilar market entry would be billions of dollars of savings but they layer patent on patent on patent, late on patents, manufacturing process patents. Just added, added, extending beyond anything that one would have thought of as the original deal for intellectual property when the original products were approved. It's what's stopping us from having a robust biosimilar market here in the United States. We're approving historic levels of biosimilars, but they have to get to market, they've got to be reimbursed, there has to got be financial incentive to use them." —United States Secretary of Health and Human Services Alex Azar
"But we actually have a couple of bills that have made their way out of the Judiciary Committee with regard to patent gamesmanship. One that addresses the patent thicket problem where drug companies, for example, who make the drug Humira have 120 separate patents which block competitors, and lower prices for American consumers. Meanwhile, in Europe there are five different competitors available for consumers in Europe." – U.S. Senator John Cornyn (R-TX)
Secretary Azar's comments reinforce what CAPA has been telling Congress: that reforming the American patent system is essential to any solution to address the high cost of prescription drugs.